Strategy and change
Change is a fact of business life. Even if your business isn't changing today, tomorrow can always bring new and sometimes unexpected developments.
That's why you need an HR Strategy.
Often your staff will be the most expensive part of your business, so it's key that you invest in this resource wisely.  Your HR strategy will help you ensure that you have the structured team resources, skills, policies and procedures in place to support the changes that are needed for your business to grow, develop and achieve its goals.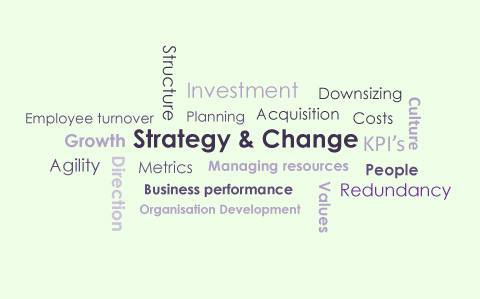 It will also help your employees understand the importance of the job they do in your evolving business. That way they'll be more likely to work with you, not just for you.
At the same time, your HR Strategy will allow you to build in flexibility and contingency to your plans, in the event that things don't go as expected.
We can advise and work with you to deliver:
A strategic HR plan that supports your business objectives
Appropriate structures for your team(s), including roles and responsibilities
Change programmes to shape company culture, values and attitudes
Support for business restructuring
Redundancy and downsizing
Employee communication and engagement programmes
TUPE compliance
HR performance, policy & practice monitoring and auditing including:

Key performance indicators (KPIs)
Employee turnover
Absence levels and patterns
Engagement levels
If you would like to know more about these or any other aspects of HR strategy and change, please contact us or ask about our free HR Health Check.