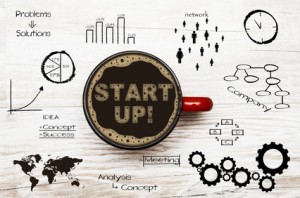 Although the UK is a nation built on the backs of small businesses (5.3m in 2015, 99.3% of the total business population to be precise) it's fair to say that most people don't actually work for themselves. But should they?
It wasn't something I contemplated doing a few years ago, but I'm glad I have.  These are my reasons for why everyone should experience running their own business:
You meet and receive help from so many people that you might never have otherwise met.  You will come across an army of people who are more than happy to help. Not because they'll get something out of it, but just because it's great to give whether that's knowledge, experience, advice or just someone to share your angst with when you hit a bit of a wall.  You don't have to 'go it alone' people WILL help you along the way.  They may become firm friends, and you'll find you'll be sharing your experiences to help others too.
You find out what you're capable of.  It's not enough just to have a business idea, you have to put it into practice and make it sustaining.  You may have many skills relevant to setting up a business venture, but aside from this there's your ability to cope too.  No one stops to think about resilience, tenacity, sustaining motivation, dealing with uncertainty etc., let alone getting your tax return done on time or getting to grips with VAT! 
It's worth looking back as you achieve milestones such as when you get your first client, achieve your first year of trading or you launch your website, to reflect on what you did, how you did it and what you learned about yourself.  You'll be surprised at what you can achieve.
Equally you find your limitations or barriers too.  I found out that I missed working in a team – big time.  I always thought I was quite happy in my own company, but a few days of working alone has me climbing the walls.  But this is a good reason to expand your circle of contacts, to get out and about and meet new people who understand where you are coming from.
Fighting too against a nagging sense of "can I really do that"?  That moment when a client calls you to ask you if you can do something for them and you find yourself wanting to say "no, but I can recommend someone who can".  It's those times when the enormity of knowing that someone is looking to hire you, and you have no back up except for yourself and what you know.  Those are not times to retreat into a shell, but to be confident in your skills and knowledge and put them out there.  Certainly if you act confident you'll be confident. 
You appreciate more of what being employed gives you.  Everybody moans at some point about their boss, the commute to work, the hours they work etc., but being self-employed shows you that the grass isn't always greener on the other side… No sick pay, no holiday pay, no pension contributions, no security, no colleagues to help you when you get bogged down or to share ideas with; and importantly no income unless YOU put the effort in to get it.
So, sometimes stopping to think about what being an employee gives you rather than doesn't can rebalance perspectives and enable you to value and understand how being employed can be just so easy in comparison.
Yet, you might also find your niche, and what you are happiest at.  Running your own business is hard work but it can be rewarding beyond the effort taken. It might, if you are lucky, give you the income you really aspire to; but there are other rewards too.  For me I flex my day around clients and personal needs.  If I want to take a day off then I do; I can schedule personal appointments when I want them; I can meet a friend (other small business owners!) for coffee, just because we can.
But professionally I get more than that out of it too.  I really love going into and working with many different clients.  Seeing them in their businesses and how they do things, and also seeing how I can add value – which may not always be what I thought I would be doing!  It's perhaps not surprising then that many self-employed people start up multiple business ventures or adapt what they are doing as they explore and push the boundaries to reflect what they are really capable of.
Being self-employed and running your own business is not necessarily better or worse than being an employee, it's just different. It's not for everyone, and it doesn't necessarily suit aspirations or personal drivers at all points in one's life, but taking on such an opportunity is enriching; providing experiences and equipping us with skills, knowledge and insight that we quite frankly would not otherwise get – however it works out in the end.  So if you do get that opportunity, go for it; and if you ever interview a candidate looking to go back into a conventional employee role don't overlook them, they just might have more about them than you think.