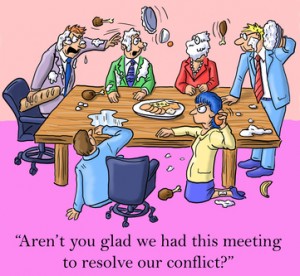 Before July 2013 anyone could freely take an employment dispute into the Employment Tribunal arena, essentially for the price of the stamp needed to register the claim.  But with the Tribunal system steadily backing up with more and more claims, the Government stepped in and introduced in July 2013 the requirement for Tribunal Appellants to pay an upfront fee before their case could be heard.
The fees imposed are not insignificant with unfair dismissal or discrimination claims starting at £1200 so it is perhaps unsurprising that the provisional first full quarter figures for October to December 2013 recently released by the Ministry of Justice show a drop of 79% in receipts of claims by Employment Tribunals compared to the same period in the previous year. This represents around 9,800 claims compared to a typical quarter receipt of around 45,000.
So, does this mean that employers can breathe a sigh of relief and expect that far fewer employees will threaten a costly tribunal claim because the fees are just too high?
Whilst all the types of claim have reduced in number the more serious types of claim, for example for forms of discrimination such as pregnancy related, race and disability, have fallen less heavily than others; potentially because the value of such cases could be higher. So as an employer there is still a need to watch out for these.  Yet some of the more peripheral claims where potentially they are of less value or of more marginal impact have fallen the hardest, such as claims brought under the working time directive or for redundancy consultation.  What we can only guess at this time is that among the 79% reduction in claims overall is that the genuinely spurious 'fishing expeditions' made by claimants who knowingly have weak cases are likely to make up a big part of this drop.
But what about claimants who have genuine grievances that they cannot afford to take into the court room.  Where do they now go?
This is where things might get interesting.  On 6 April 2014 ACAS formally introduce their Early Conciliation Service as required under the Enterprise and Regulatory Reform Act, which means that anyone who wants to consider raising a claim at an Employment Tribunal must first engage ACAS to help resolve the dispute before reaching the tribunal system. This is being introduced as a further effort to help stop the tribunal system from clogging up with cases that should be more simply resolved.
This is a free service and will be a mandatory step before tribunal claims can be lodged.  Without advising on the merits of the case ACAS will attempt to help the parties resolve their dispute through their conciliation service, and only if they can't resolve matters or their help is turned down will a claim be able to move forward to the Employment Tribunal system.
Many people will no doubt simply see it as a necessary step before pursuing 'their day in court' but for others whether Appellants or Respondents it very much can be a less formal (and cheaper) option to resolving disputes before they escalate to the courts. Yet it is by no means a new idea.  ACAS conciliation has been around for a long time, but by making it mandatory brings it much more to potential claimants attention.
So, whilst the introduction of fees into the Tribunal system seems to have had the intended impact of reducing the number of cases getting there, the new free Early Conciliation Service being introduced into the pre-claim system will still enable people another shot at approaching their employers in an attempt to settle grievances they might have.
Will this prove to be the preferred option for those less valuable claims that until July 2013 would clog up the tribunal system? 
Well it remains to be seen, but certainly it could mean that disputes that in the last few months have dropped out of the court system will have another possible route to resolution to replace it.   Is this a bad thing?  Not necessarily.  If nothing else, if it enables all parties to think again about their squabbles and with the help of a Conciliator to resolve matters, it could be a much quicker, easier and less costly solution for all.